Yog-Sothoth's Yard
Languages: Simplified Chinese, English
---
Compare the cheapest prices for Yog-Sothoth's Yard with bestgameprice.net to find the best deal. Discover where to buy the cheapest Yog-Sothoth's Yard PC key. You can also explore Yog-Sothoth's Yard system requirements, watch its Twitch streams and see the game stats below.
Create Price Alert
Yog-Sothoth's Yard streams
Frequently Asked Questions
What is the story of Yog-Sothoth's Yard?

Where can I download Yog-Sothoth's Yard?

Where can I buy Yog-Sothoth's Yard?

How many GB is Yog-Sothoth's Yard?

What is the age rating for Yog-Sothoth's Yard?

What languages does Yog-Sothoth's Yard support?

Is there multiplayer in Yog-Sothoth's Yard?

When is Yog-Sothoth's Yard coming out?

Who is the publisher of the game?

Who is the developer of the game?
About Game


Welcome to the yard!
In this game, you inherit an ancient villa burdened with shadowy debts. You'll manage a hotel and hire diverse staff members including Death, a dragon, a Spirit Hunter, and a bioroid maid. Enigmatic guests will arrive, each bringing their own mysterious events. Build your wealth through various methods like mining, adventuring, alchemy, and restaurant management, while adjusting your strategies based on the predictions of Oracles.
*Caution: Consulting Oracles may decrease your sanity level!
The fate of the world will be shaped by your decisions, and your staff may fall for you based on your choices. This game offers up to 21 different endings.


The Hotel
Making money is great!! Making money is joyful!!
What's that, lose some sanity for the sake of earning money?
The Building
This dilapidated villa can be transformed into a luxurious hotel!
As a boss who's ruthless to customers but kind to employees, you'll customize rooms specifically for your core staff!
...Wait, why is Death sleeping in a pit?


The Beautiful Yard
Please ignore the man-eating plant.
Kindly expedite the excavation of the mine and forest.
Pay attention to every guest visiting the courtyard and listen to their Oracles to gain extraordinary powers, but be sure to manage your SAN value to avoid confronting the truth too soon.
If you see a giant cat covered in eyes, please ask the front desk for a sick leave note.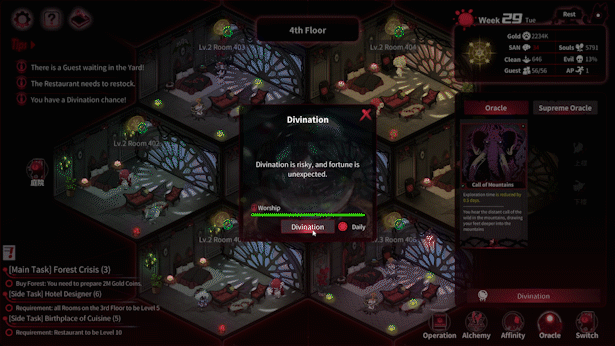 The Forest
Beyond the hotel lies an expansive forest.
With proper development, it can provide a variety of ingredients for your inn's restaurant.
Food and Alchemy

Place some indescribable animals and plants in specific containers.
Chop finely.
Add some magical spices from foreign lands.
Incorporate some special minerals.
It is essential to keep the right temperature from the flames.
"Are you talking about alchemy or Eastern mystical culinary arts?"
"Both."
Food
This game offers multiple strategies.
Managing food, for instance, helps you swiftly utilize materials and amass wealth.
Assist the guests in the yard, and in return you'll receive diverse recipes from around the world.
The automatic listing feature simplifies tasks, while the lovely chef assists in preparing meals. However, you'll need to transform into a cat and diligently explore the mountains and forests to supply her with an abundance of ingredients.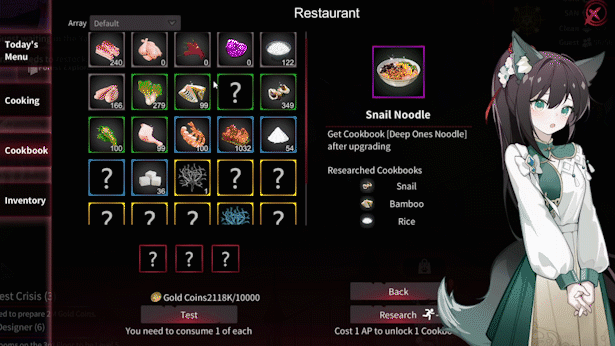 Alchemy
Stay on good terms with Yevna the Red Dragon, and she will faithfully supply you with alchemical products in the alchemy workshop.
By enhancing your alchemy skills, you can boost the workshop's production.
Pprioritising collecting alchemical formulas will enabling you to craft exceptional items,
such as the legendary Philosopher's Stone.


Recruit Employees

Bioroid Maid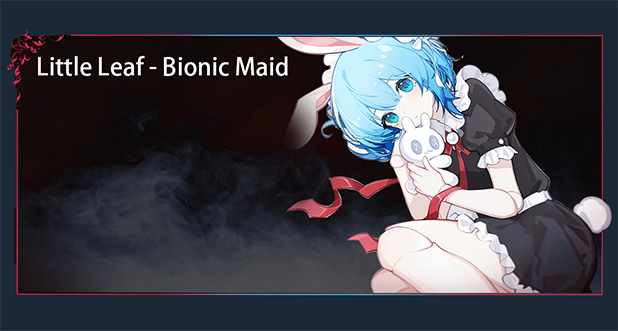 One day, you discovered she was once human (???)

Death in Tower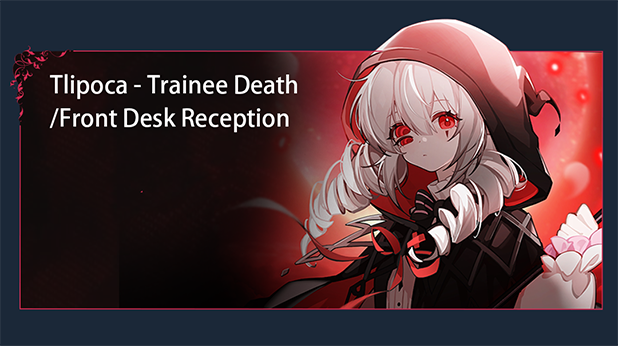 After confessing, "I need to repay 9999 ounces of high-purity souls to the Death Tower," she brandished her scythe.
Will you choose to slaughter your guests to repay her debt?



The Dragon Alchemist


Don't tell her that by the fifth month of your training, your alchemy skills surpassed hers; the proud red dragon will become angry.

The Spirit Hunter (Chef)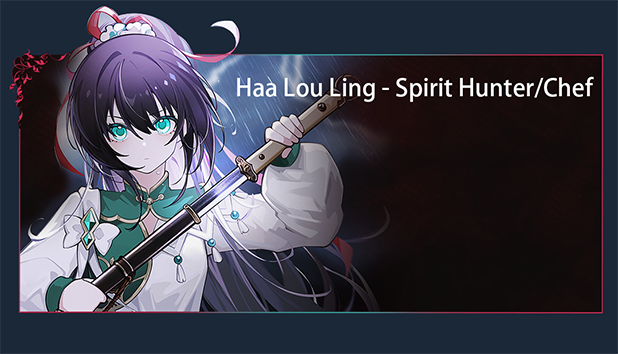 Although her swordsmanship is impressive, she prefers being a chef.
— Regardless, her knife skills are excellent.

In addition, there is a variety of unique NPCs with a wide range of different races, appearances, and personalities. Every character has their own story to discover.
A rich game experience and a fantastical dark world await your exploration.
Supported Languages: Simplified Chinese, English
System Requirements
Minimum System Requirements:
Minimum:
OS: Windows 7
Processor: Intel i5 Quad-Core
Graphics: NVIDIA GeForce GTX 750 Ti
Network: Broadband Internet connection
Storage: 3 GB available space