Unboxing the Cryptic Killer
---
Compare the cheapest prices for Unboxing the Cryptic Killer with bestgameprice.net to find the best deal. Discover where to buy the cheapest Unboxing the Cryptic Killer PC key. You can also explore Unboxing the Cryptic Killer system requirements, watch its Twitch streams and see the game stats below.
Create Price Alert
Unboxing the Cryptic Killer streams
Frequently Asked Questions
What is the story of Unboxing the Cryptic Killer?

Where can I download Unboxing the Cryptic Killer?

Where can I buy Unboxing the Cryptic Killer?

How many GB is Unboxing the Cryptic Killer?

What is the age rating for Unboxing the Cryptic Killer?

What languages does Unboxing the Cryptic Killer support?

Is there multiplayer in Unboxing the Cryptic Killer?

When is Unboxing the Cryptic Killer coming out?

Who is the publisher of the game?

Who is the developer of the game?
About Game
ABOUT UNBOXING THE MIND OF A CRYPTIC KILLER

Unboxing the Cryptic Killer is the first cooperative point-and-click escape room in the "Cryptic Killer" series. Join forces with a friend and play as detective partners Ally and Old Dog in our debut two-player escape room adventure.
Up against a decade-old cold case and a dangerous new foe, can you help them solve the puzzles, crack the codes, and escape the clutches of the Cryptic Killer?
THE STORY

After getting an anonymous tip, detective partners Ally and Old Dog are sent to an old warehouse deep in the shipping district of their respective cities. On arrival, they quickly realize not all is as it seems. This crime has the 'Cryptic Killer's fingerprints all over it. But, with that case long put to bed - did our detective heroes catch the wrong guy, or are they dealing with a copycat killer on the loose?

Choose between playing as the no-nonsense Scottish detective Ally Abernathy, or detective 'Old Dog' Kowalski in Poland. In a series of carefully laid out puzzles, you and your friend must solve the puzzles, crack the codes, uncover the truth, but most importantly… Escape the warehouse! You'll have to use everything you've got if you want a chance at catching the Cryptic Killer. Do you have what it takes?
COLLABORATE AND COMMUNICATE

Unboxing the Cryptic Killer is a puzzle for exactly two players. The name of the game is collaboration. Each takes on one of the two roles and work your way through a series of challenging puzzles. You'll each see one half of the same puzzle and must work together to crack the codes and escape the Cryptic Killer's clutches.

💡 Fix wiring and restore power to the warehouse
🧠 Combine your knowledge to solve challenging puzzles
🎲 Push buttons, move controllers and play mini-games together to escape
🔒 Crack the codes and unlock padlocks to progress
✏️ Get creative - some puzzles require you to draw on the screen
FEATURES LIST
Two Player Co-Op: In Unboxing the Cryptic Killer, the detectives are separated. You'll see different items and clues than your partner and will be tested on your communication!
Challenging Collaborative Puzzles: Two brains are better than one when it comes to cracking the Cryptic Killer's codes.
Unravel a Thrilling Story: Track the Cryptic Killer's movements as Detectives Old Dog and Ally in this ongoing murder mystery saga.
Explore Illustrated Worlds: Unboxing the Mind of a Cryptic Killer features hand-illustrated environments that are inspired by noir novels.
Draw on… Everything! You can't solve a case without taking notes. At any time in the game, you can whip out a notebook and pen to make notes and scribble on your environment.
MEET THE DETECTIVES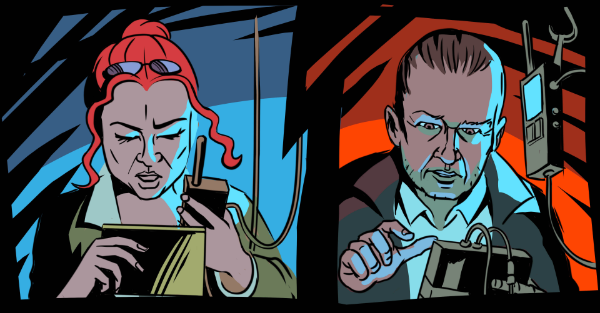 MEET DETECTIVE ALLY

Name: Allison Abernathy ("Ally" for short)
From: Glasgow, Scotland

Ally grew up in a police family and was always destined to sign up. A force to be reckoned with, when she puts her mind to something, nothing gets in her way.

But that streak of success came to a head when the case of the Cryptic Killer fell across her desk. Partnering with Polish detective, 'Old Dog' Kowalski, at first it seemed like just another day, another case, and another criminal to be caught…

But this case would prove to be different. Success would come at a far greater cost, lasting Detective Abernathy for decades to come. With a new lead and a new peril, old wounds are about to be reopened.
MEET DETECTIVE OLD DOG

Name: Steve "Old Dog" Kowalski
From: Krakow, Poland

Old Dog has an age beyond his years, older, wiser, and hardened by life. From an early age, he wanted to work in law enforcement and achieved his dreams as a young officer in the Polish police force.

His career followed success after success, that was until he was assigned a curious international case with Scottish detective 'Ally' to track down the Cryptic Killer. With the killer safely behind bars, something didn't quite feel right. That something has been nagging at Old Dog for decades since.

Essentially a loner, Old Dog spends his nights listening to Jazz and drinking whisky as he obsesses over the details of the old case. All but keeping him from spiraling is his partner Ally. Will this new break upset the careful balance?
ABOUT ELEVEN PUZZLES

Five friends from Scotland and Poland, brought together by a love of games and puzzles, decided to create an online escape room that would challenge, excite and entertain. Dozens of puzzles, hundreds of hours, and thousands of coffee cups later, Eleven Puzzles was born and the Cryptic Killer series of digital escape rooms was published online. After being played by tens of thousands of escape room enthusiasts worldwide Eleven Puzzles have expanded the team, improved the series, and are bringing their long-awaited, award-winning escape rooms to Steam.
Supported Languages: English
System Requirements
Minimum System Requirements:
Minimum:
Requires a 64-bit processor and operating system
OS: Windows 7
Processor: Intel core 2 DUO 2GHz+, AMD Athlon TMX2 2.2GHz+
Memory: 4 GB RAM
Graphics: Intel Hd graphics 520
Network: Broadband Internet connection
Storage: 2 GB available space
Additional Notes: A working PC-compatible microphone
Recommended System Requirements:
Recommended:
Requires a 64-bit processor and operating system
OS: Windows 8/10/11
Processor: Intel core I5-4440, AMD FX 6300
Memory: 8 GB RAM
Graphics: Nvidia GeForce GT 740, AMD Radeon R7 250
Network: Broadband Internet connection
Storage: 2 GB available space
Additional Notes: A working PC-compatible microphone