Siege of Dungeon
Languages: Traditional Chinese, English, Simplified Chinese ...
---
Compare the cheapest prices for Siege of Dungeon with bestgameprice.net to find the best deal. Discover where to buy the cheapest Siege of Dungeon PC key. You can also explore Siege of Dungeon system requirements, watch its Twitch streams and see the game stats below.
Create Price Alert
Frequently Asked Questions
What is the story of Siege of Dungeon?

Where can I download Siege of Dungeon?

Where can I buy Siege of Dungeon?

How many GB is Siege of Dungeon?

What is the age rating for Siege of Dungeon?

What languages does Siege of Dungeon support?

Is there multiplayer in Siege of Dungeon?

When is Siege of Dungeon coming out?

Who is the publisher of the game?

Who is the developer of the game?
About Game

Siege of Dungeon combines various rogue-lite elements with traditional turn-based RPG's, creating a challenging and rewarding experience. In each one-of-a-kind randomly generated dungeon, countless rewards, events, enemies, and traps await. After each victory, your combination of character skills and relics will slowly shape your unique combat style. After successive heated battles, you will reach the deepest part of the dungeon and face the horrors that await.
Charge into the cryptic dungeon


In this ever-changing, randomly generated Underworld, you will have to make decisions depending on the various locations of monsters and events, which will lead your team to crisis or victory!
Explore individually or as a team

In the vast interconnected dungeon, only adjacent characters can fight as a party. Under the circumstance of being surrounded by monster swarms, should you stick together or sneak in separately? Do you split up to explore more ground or play it safe by sticking together?
Deathmatches that come from sacrifices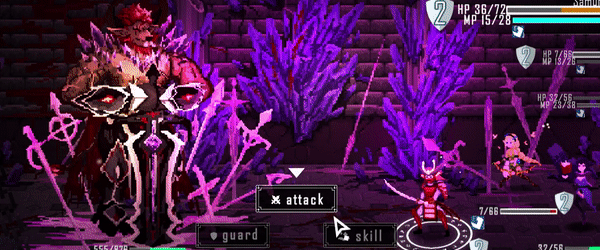 In this underworld dungeon, you will discover relics and skills from adventurers' past. Their unfulfilled ambitions will allow you to combine ever-changing battle strategies. When combining these two factors, use spectacular "burst" attacks to annihilate all enemies that stand in your way!
Story


In the central sea area between the countries, a foreboding city with a dark castle suddenly emerged. Scholars have discovered from ancient texts that this castle is from an ancient dynasty that should have been eternally sealed with spells. Each country sent troops to investigate and found that there is an unfathomably deep dungeon under this deserted city. Many magical creatures lurk there, along with vast amounts of crystals and treasure.

Even though the rumors tell of the incredible depths, horrors, and deadly magical creatures, there are still many strong adventurers drawn to the power and fortunes, seeking to explore this unknown dungeon...



Supported Languages: Traditional Chinese, English, Simplified Chinese, Korean, Japanese
System Requirements
Minimum System Requirements:
Minimum:
OS: Windows 7/8/10 64-bit
Processor: Intel® Core™ Alder Lake i3-12100F Processor 4.30 GHz Cache 4 Core 8 Thread LGA1700
Memory: 8 GB RAM
Graphics: MSI GeForce GTX 1650 VENTUS XS 4G OC GDDR5
DirectX: Version 11
Storage: 2 GB available space
Sound Card: DirectX compatible
Recommended System Requirements:
Recommended:
OS: Windows 10 64-bit
Processor: Intel(R) Core(TM) i5-8400 CPU
Graphics: GeForce GTX 1060 6GB
Sound Card: DirectX compatible