Early-blooming black lily
Languages: Korean, Simplified Chinese, Japanese
---
Compare the cheapest prices for Early-blooming black lily with bestgameprice.net to find the best deal. Discover where to buy the cheapest Early-blooming black lily PC key. You can also explore Early-blooming black lily system requirements, watch its Twitch streams and see the game stats below.
Create Price Alert
Early-blooming black lily streams
Frequently Asked Questions
What is the story of Early-blooming black lily?

Where can I download Early-blooming black lily?

Where can I buy Early-blooming black lily?

How many GB is Early-blooming black lily?

What is the age rating for Early-blooming black lily?

What languages does Early-blooming black lily support?

Is there multiplayer in Early-blooming black lily?

When is Early-blooming black lily coming out?

Who is the publisher of the game?

Who is the developer of the game?
About Game
[Character]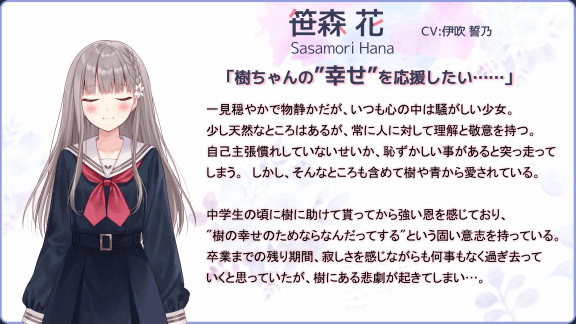 .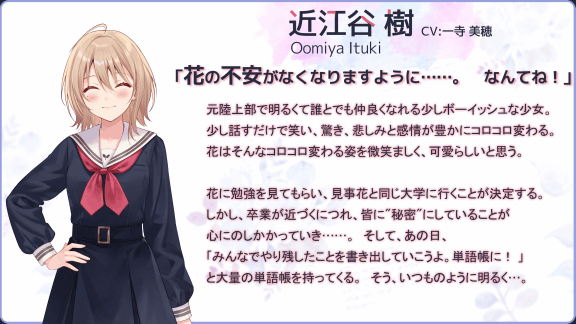 .


.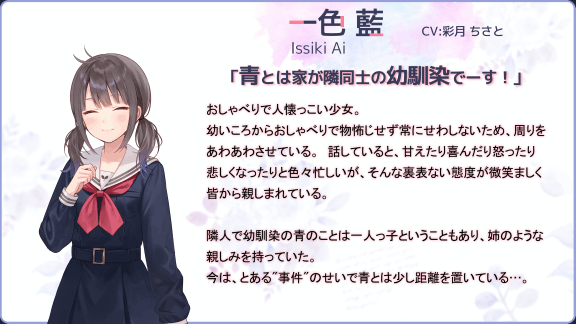 .
[Story]
It may have been the curse of the black lilies that bloomed early in the winter--.

It has been 18 years since the new and threatening virus "CLII," which killed more than 50% of minors, was completely contained.
People have completely regained their normal lives, but it has left a huge mark and problem in the society....

Hana Sasamori is a third-year student at Naeshiro High School in Sapporo.
She is a quiet girl, but inside she is always in a hurry.
With only a few days left until graduation, Hana finds herself repeating the same day over and over again.

Yes, that's right. I like you ......."

Hana strongly wishes for the happiness of "Jyu-chan" who saved her in the past.

Hana thinks, "I'm sure this feeling will make Trees happy.
I'm sure this feeling won't make you happy. ......
I thought I would put a lid on it and end it with "adolescent whimsy," as something I shouldn't admit.
However, that realization led to a deep, deep "curse"....
This is a story of love that weaves between two people in order to persist through such "love" and "curse".
[Point]
Yuri ADV full of nostalgic illustrations by Shark Fin.

A yuri coming-of-age story about a girl's struggle to fall in love with a girl.
The story is about a girl's struggle to fall in love with a girl.
Full voice
Character's standing pictures are animated.
Support for Japanese and Simplified Chinese languages.
Scenarios are accompanied by flowcharts.
[Concept]
[Conflict x Adolescence] A story about "likes" and "curses" in a world where people are afraid to even say they like someone.
This work is just a story about a girl who likes a girl.
However, a "pure love triangle" with a boy is born in the story, and it vividly depicts the subtleties of a conflicted and uncontrollable mind.
The story is about a feeling of entrapment, where you feel you are being blamed even though you are not being blamed by anyone. A single word can destroy a relationship and memories.
This is such a sad yet supportive story of love and a curse.

[Tragedy x Interruption] "Tragedy Loop" is overcome by "interrupting choices".
The main character "Hana Sasamori" gets caught in a loop that ends tragically in each chapter.
Unlike regular games, in this title, no forced choices appear! 
To escape the tragedy, you must "interrupt the choices and change your fate" during certain conversations with your own will and manipulation.

[guess x text input] "Guess" and "text input" to connect to a new destiny.
Next you interrupt the choice, you must enter a "word" by typing (typing) that will change your destiny.
By "guessing" and entering the fate-altering word in the story, you may create a path to avoid tragedy.

Please make full use of the above system to weave flowers and trees and lead them to happiness.

*This work has elements of a pure and adolescent love triangle, but the boys have no malicious intent and there are no so-called "heartbreaking developments.
Supported Languages: Korean, Simplified Chinese, Japanese
System Requirements
Minimum System Requirements:
Minimum:
OS: Windows 7 or later (64-bit)
Processor: Intel Core i3 2.0 GHz
Memory: 2 GB RAM
Graphics: Intel HD Graphics 530
DirectX: Version 11
Storage: 4 GB available space
Sound Card: Compatible with DirectSound
Recommended System Requirements:
Recommended:
OS: Windows 10 (64-bit)
Processor: Intel Core i5 2.6 GHz
Memory: 4 GB RAM
Graphics: GeForce GTX 760
DirectX: Version 11
Storage: 4 GB available space
Sound Card: Compatible with DirectSound