Checkmate Showdown
Languages: English, Spanish - Latin America, Portuguese - Brazil ...
---
Compare the cheapest prices for Checkmate Showdown with bestgameprice.net to find the best deal. Discover where to buy the cheapest Checkmate Showdown PC key. You can also explore Checkmate Showdown system requirements, watch its Twitch streams and see the game stats below.
Create Price Alert
Checkmate Showdown streams
Frequently Asked Questions
What is the story of Checkmate Showdown?

Where can I download Checkmate Showdown?

Where can I buy Checkmate Showdown?

What is the age rating for Checkmate Showdown?

What languages does Checkmate Showdown support?

Is there multiplayer in Checkmate Showdown?

When is Checkmate Showdown coming out?

Who is the publisher of the game?

Who is the developer of the game?
About Game



Enter the ultimate arena of cerebral combat, where strategic thinking meets explosive fighting action! In this adrenaline-fueled online multiplayer game, you'll challenge other players to intense battles that fuse the classic game of Chess with heart-pounding fighting game mechanics.




With lightning-fast reflexes and an eagle-eye for strategy, you'll need to outsmart your opponents on the chessboard while unleashing devastating combos and special moves in the arena. Master the roster of fighters, each with their own unique fighting styles and chess piece abilities, all based on traditional fighting game archetypes (zoner, grappler, rushdown, etc).

Are you ready to become the Checkmate Showdown Grandmaster?






The Chess and fighting parts are intimately linked by design; once a piece attacks the opponent, a fight is engaged. The attacker and defender will be able to make use of tag-assist by other pieces in proximity, and the attacker will have an advantage by having their Ultimate ready to rip from the get-go.

Built with the diversity of gamers in mind, Checkmate Showdown will let newcomers have a good time with an approachable control scheme but will feature all of the depth and precision expected by professional FGC players. Easy to pickup, hard to master.




True Test of Strategy & Skill
Checkmate Showdown will require a broad set of skills to become the best. Learn strategies for the board and elaborate combos in fights to make your way to the top. You will have to master every chess piece's skillset to truly become a master!



Tactical Decision-making
Your board placement is KEY for a strong endgame. By strategically placing your pieces on the board, you could benefit both from attackers advantage AND tag-assist(s), depending on how many pieces are within their movement range to support your square. As each chess piece corresponds to a fighting game archetype, the choice of attacking with one or the other will be crucial.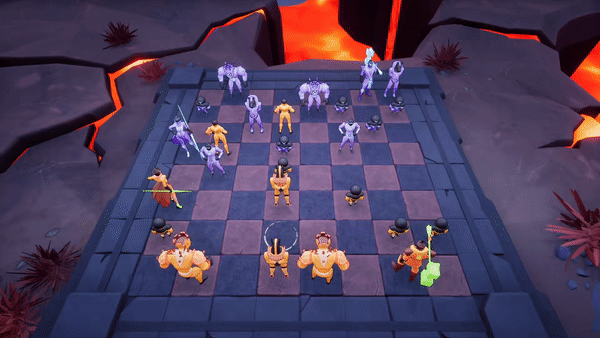 Strong Competition System
Checkmate Showdown is created by a team of hardcore fighting game enthusiasts who understand the importance of competition in fighting games. The game aims to feature the most up-to-date matchmaking technology and balancing to allow for friendly (or not) competition.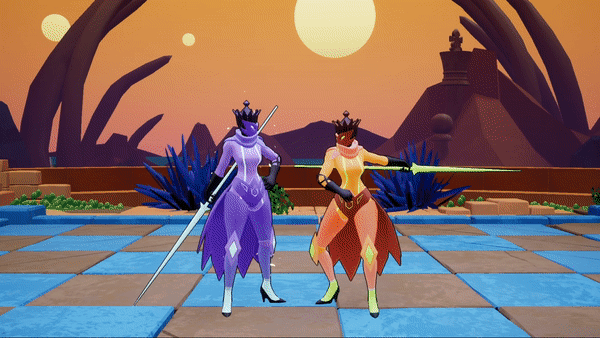 Community-driven Development
Based in the heart of Montreal, the development team thrives from its proximity to the local fighting game community. The game is made by fighting game enthusiasts for fighting game enthusiasts. Transparency in how we move forward is key to making this a community-built game. Whatever idea you have to help improve the game, we're ready to listen.

Does the game use rollback netcode?
We built the game using rollback netcode from the get go - we know how important that is and some of us are hardcore fighting game fans so it wasnt even a question.
I'm a hardcore fighting game enthusiast, will this game have all the bells and whistles?
Yes. Checkmate Showdown is made by a team comprising expert FGC players. Expect mixups, traditional strike-defense-throw triad, specials, cancels, combo breakers, guard break, etc.
I'm a newcomer to fighting games, but I love Chess. Will I still be able to play?
Yes! We designed Checkmate Showdown with an 'easy to learn, hard to master' philosophy. Button-mashers will be able to look good on-screen, while pros will find every bit of nuance they could want.
Are experienced Chess or fighting game players advantaged?
While traditional Chess strategies or massive fighting game skills will definitely shine in competitive rankings, one isn't advantaged over the other. An expert Chess player might get to your King fast, but they will have to use different strategies to truly master the game. Fighting game pros could just as well be taken off-guard by Chess-savvy opponents attacking them with an unexpected move, forcing them to use an already damaged piece in a tough fight.

Supported Languages: English, Spanish - Latin America, Portuguese - Brazil, French
System Requirements
Minimum System Requirements:
Minimum:
OS: Windows 7 64-bit
Processor: Intel Core i3-4160 @ 3.60GHz
Memory: 6 GB RAM
Graphics: NVIDIA® GeForce® GTX 480, GTX 570, GTX 670, or better
DirectX: Version 11
Network: Broadband Internet connection
Sound Card: DirectX compatible soundcard or onboard chipset