ACRES
Languages: English, Spanish - Spain, Finnish ...
---
Compare the cheapest prices for ACRES with bestgameprice.net to find the best deal. Discover where to buy the cheapest ACRES PC key. You can also explore ACRES system requirements, watch its Twitch streams and see the game stats below.
Create Price Alert
Frequently Asked Questions
What is the story of ACRES?

Where can I download ACRES?

Where can I buy ACRES?

How many GB is ACRES?

What is the age rating for ACRES?

What languages does ACRES support?

Is there multiplayer in ACRES?

When is ACRES coming out?

Who is the publisher of the game?

Who is the developer of the game?
About Game
Grow with Purpose: Acres is all about tending to your crops and nurturing the land for a bountiful yield. Your success hinges on your ability to respond to market orders, cultivating the right crops in the right amounts to meet demand.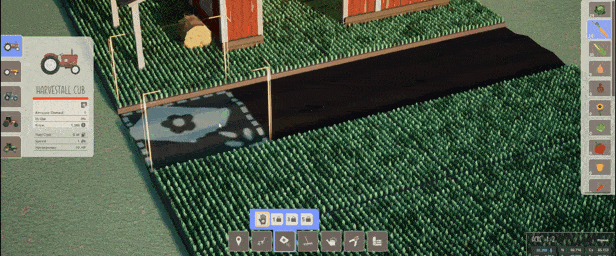 Gameplay
Fulfill orders by growing crops. Meet increasing market demands by upgrading tractors & equipment, automating cultivation and purchasing more land. How long can you keep the farm operating?




Meeting market demands
Market orders queue, with certain crops and amounts, It's up to the player to grow the requested crops before the order ticket expires.
Orders sell automatically when harvested crops are available.

The amount of cash earned is dependent on the crops' value and how quickly the order was fulfilled. As market orders age, the order value will gradually decrease until time has expired. Too many expired orders will reduce the farm's reputation level.
Crop cultivation




1. Till the Soil, Unveil Potential:
Use the plow tools to transform overgrown soil into fertile ground. This initial step sets the stage for your thriving farm.

2. Plant with Precision:
Employ the planters to sow seeds with accuracy. Explore a diverse range of seed types, each holding its unique attributes and requirements.

3. Weed Control and Cultivation:
Neutralize competing weeds with cultivators, ensuring your crops take center stage. Cultivate the perfect environment for growth.

4. Sustain Soil Vitality:
Maintain soil health to prevent resource depletion by using soil amendment tools. Adjust water levels, pH balance, and nutrients to suit each crop's needs. Your stewardship ensures a continuous cycle of fruitful harvests.

5. Harvest in Abundance:
Watch your efforts bloom as plants mature. Utilize state-of-the-art harvesters to gather crops at their peak, reaping the rewards of your hard work.
Tractors, Upgrades & Automation

Manual hand tools can be upgraded to automated tractor and implement versions, allowing faster processing times and freeing up the player to manage other areas of the farm.

Better tractors and implements have increased usage costs, it is up to the player to decide when upgrades are necessary and cost effective.
Features
ACRES offers:


Growing rows of independent crops
Time-sensitive actions that add a sense of urgency to your farming tasks
Calming but thoughtful strategy that allows you to plan and optimize your farm
Simplistic automation to streamline your operations
Limited trading and economy mechanics to add depth to your farming experience
A relaxing atmosphere that helps you unwind and escape the hustle and bustle of daily life
Beautiful, vibrant graphics that bring the minimalist world to life
Strategic placement options to optimize soil health and crop growth
Many unlockable crops and implements, offering a sense of progression and discovery

What ACRES does not offer
4x Strategy gameplay
Deep layers of factory building mechanics
Realistic simulator elements
Animal husbandry
Combat & Violence
Multiplayer functionality
Lootboxes or microtransactions

Immerse yourself in the simplicity and tranquil beauty of ACRES: Minimalist Farming Sim. Cultivate your crops, nurture your land, and create your dream farm in a serene and captivating world.

https://store.steampowered.com/app/2460920
Supported Languages: English, Spanish - Spain, Finnish, French, Polish, Russian, Arabic, Portuguese - Portugal, Norwegian, Korean, Traditional Chinese, Simplified Chinese, Czech, Ukrainian, Portuguese - Brazil, Greek, Romanian, Bulgarian, Japanese, Hungarian, Vietnamese, German, Dutch, Swedish, Danish, Spanish - Latin America, Italian, Turkish
System Requirements
Minimum System Requirements:
Minimum:
OS: Windows 10 (64-bit versions only)
Processor: Intel Core i7-3770 / AMD FX-9590 or better
Memory: 2 GB RAM
Graphics: GeForce GTX 1060
DirectX: Version 11
Storage: 2 GB available space
Recommended System Requirements:
Recommended:
OS: Windows 10 (64-bit versions only)
Memory: 4 GB RAM
Graphics: Nvidia RTX
DirectX: Version 12
Storage: 2 GB available space